Children Orthodontic Treatment Pilot Project for 6-12 years old Children with Clefts
Although cleft lip and cleft palate are repaired before 1 year of age, the patients' growth of upper jaw may be affected.  When a patient grows up, he may have their upper jaw underdeveloped causing underbite, "V-shaped" alveolus and misplaced upper frontal teeth, which results in speech problems, chewing problems, lip closure etc.  Early orthodontic treatment can help to correct "V-shaped" alveolus to the normal "U-shaped"one, giving more space for the crowded frontal teeth; correct bite and support proper jaw alignment and growth; correct misplaced or irregularly aligned teeth so that the problem of underbite will be minimized, and consequently the complexity of jaw surgery will be alleviated, or can even avoid.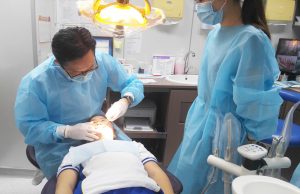 Thanks to the assistance from four kind-hearted orthodontists and backup by two senior ones, plus the provision of dental room by the Chai Wan Baptist Dental Clinic, this 'Early Orthodontic Treatment Pilot Project for Cleft Lip and Palate Children between 6-12 Years of Age' at charity rates is launched between 2019.1.1 – 31.12.2020.
Special thanks go to Chow Tai Fook Medical Foundation, Centaline Eagle Club, Mr. Andrew Ng Charity Trust, Mr. & Mrs. Lui for their sponsorship to enable the project come true.   Children from CSSA and grass-roots families are eligible for partial sponsorship of the treatment fees.
For more information, please click the "Live Chat Button" at the right bottom corner or click here to send a message directly.