Secondary Treatment
Orthognathic Surgery
Due to cleft palate, the growth of the patients' jaw may be affected, resulting in retrusive upper jaw and underbite problem.  They may need orthognathic surgery around 18 years of age.  The Oral & Maxillofacial Surgery Department of public hospitals will offer the said surgery to the patients.
Early Orthodontic Treatment during the age 6-12 while the jaw is still growing may help effectively to correct cleft lip & palate children's underbite problem so that consequently the complexity of jaw surgery will be alleviated, or can even avoid.
Combined Lip and Nose Reconstructive Surgery for Adults with Clefts
As a cleft lip and palate patient grows up, he may have developed secondary cleft lip and nasal deformity such as tight upper lip, irregular lip scars, asymmetric upper lip, widened and flattened nostril(s) etc.  To an adult patient, Combined Lip and Nose Reconstructive Surgery is very important because the surgical revision can help to improve their lip and nose function, and eliminate their facial difference.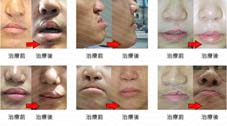 The above 'Combined Lip and Nose Reconstructive Surgery' for adult patients are performed by Plastic & Reconstructive Surgeons.  Since 1970s, the Plastic & Reconstructive Surgery Department of three public hospitals, namely Queen Mary Hospital, Kwong Wah Hospital and Tuen Mun Hospital, have been one after the other providing complete Primary & Secondary Treatment for cleft lip and palate patients, as well as for patients of craniofacial anomalies including Pierre Robin Sequence, Macrostomia, Microtia, Craniosynostosis, Treacher Collins Syndrome, Crouzon Syndrome etc.
For more information, please click the "Live Chat Button" at the right bottom corner or click here to send a message directly.