Community Educational Programme
Education Through Social Platforms
By posting texts and image updates, videos, and related contents in social platforms like Facebook, Twitter, Instagram, and the official website, HKACLP enhances the public's understanding on cleft lip and palate and promotes our services.  So that the parents and patients may find us more easily on the internet and call at our centre for help.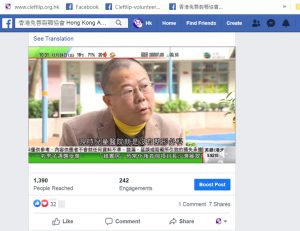 Life Education Activities at Schools
Each year, HKACLP pays visits to different primary and secondary schools in the territory for life education activities.  Through the sharing of the parents or the patients themselves, the students may understand more about the congenital cleft anomalies, the patient's life story and the parents' feelings so as to promote inclusion and harmony on the campus.

Community Educational Exhibitions
Each year, the association organizes a few community educational exhibitions to promote the message of 'Love Can Change Life'.  During the educational activities, there are information boards giving information about orofacial clefts and the association's services, cleft-related booth games, distribution of information leaflets etc. in order to increase the public's awareness of cleft lip and palate, the difficulties and needs of patients, which consequently promotes social inclusion and a caring society.